Corporate Memberships
NJ ACCA Membership – Options That Fit You
One size does not fit all when it comes to membership options. It's important to have choices and not be told that there is one way to belong. Your choices should be well thought out and grow with you as both your business and career grow, and as your relationship with the organization strengthens over time. These principles were central to the creation of NJ ACCA's membership structure.
NJ ACCA's offerings are both amplified and simplified –  meaning more features, more ways to engage, and more cost-effective payment plans. The changes center around one goal, to keep NJ ACCA on the growth trajectory it has enjoyed since becoming an independent, yet affiliated, organization from the national Air Conditioning Contractors Association (ACCA).* This relationship with ACCA, and the fact that NJ ACCA focuses solely on the HVACR industry and nothing else, gives us the ability to bring the latest news and education to our members both electronically and in person at our regular membership meetings and other educational events.
Highlights of NJ ACCA's Membership Structure:
Access to in-person networking and educational events.

A complimentary surety bond (a 

requirement for licensure).


Discounted access to health care insurance 

through Association Master Trust.

Your membership strengthens our industry's voice 

in the halls of the statehouse and with key state agencies. Having the strongest possible voice is more important than ever as NJ ACCA works to make sure that our state government is passing common sense measures that help customers, grow businesses, and strengthen the overall health of our industry. Being solely focused on the HVACR industry puts us in the best position to advocate for the true needs of HVACR professionals from across the state.
The NJ ACCA membership program has two components:
Business Membership:

 Everyone in your organization** will be a member. The cost of the business membership ($449) is slightly more than the current individual membership, making it a savings for two or more. Business memberships also offer several additional discounts as a special thank you.

Individual Membership:

 Ideal for smaller businesses – entitles one person in your company to all that NJACCA offers.
That's the big picture…the chart below tells even more of the story.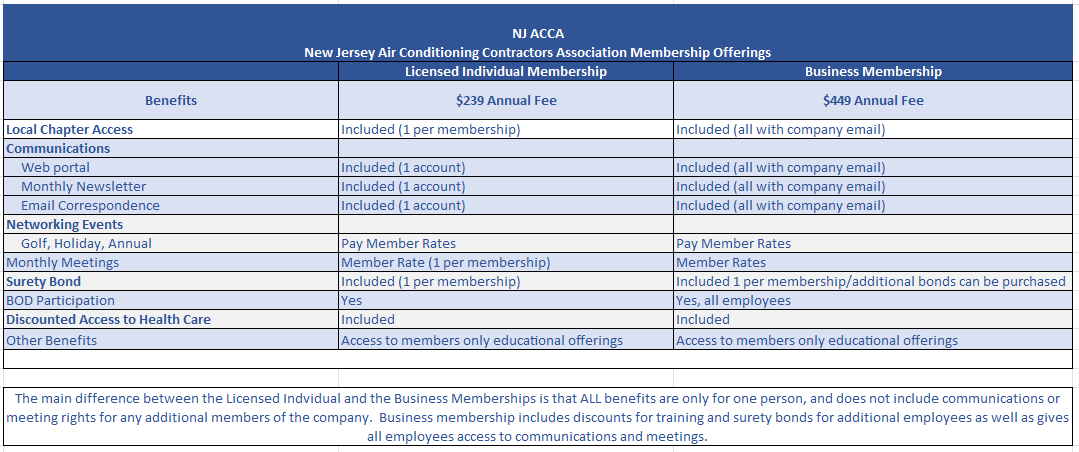 * Independent, yet affiliated means that while ACCA and NJ ACCA might work together in areas of mutual interest, they are two separate memberships.
** Includes anyone with your corporate email address